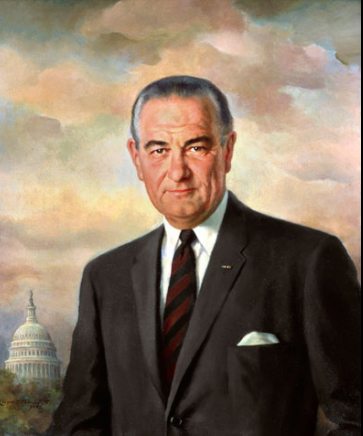 President Lyndon Johnson Biography
Lyndon Johnson was the 36th president and assumed the position after the assassination of John F. Kennedy. Johnson was known for signing the Civil Rights Act of 1964 and his work on healthcare reform. During his time in office the Vietnam war began and the cold war with Russia continued. He decided to not run for re-election in 1968.
​Lyndon Johnson was born in a small town in Texas on August 27th of 1908. Johnson surprisingly struggled in school but had a keen interest in debates and participated in them often. Little did he knew that one he would become the thirty-sixth president of the United States.
He graduated from college in 1930 and moved to Washington where he worked as the legislative secretary of Richard Kleberg, a congressman from Texas. Eventually using his cunningness and his unique gift for politics he eventually became the Senator of Texas by 1948. In 1953, Johnson became the youngest minority leader in Senate's history. The next year he became the majority leader as the Democratic Party took over the majority.
He was elected Vice President in 1960, serving under President John. F Kennedy. When Kennedy was assassinated, Johnson got sworn in as the thirty-sixth President of the United States in Air Force 1. He had a vision to build "A Great Society" for Americans. In 1965 he started one of the most domestic programs in history. This agenda included Medicare Act, Medicaid Act, and Voting Rights Act. Johnson's Great Society legislation is something he is well-known off. He baldly called it "a declaration of war on poverty."
The Presidential pathways text and Averit Center exhibit discussed how Lyndon Johnson had a love of bawdy jokes and political gossip. President Johnson particularly didn't like being photographed with glasses on, and he nearly always positioned himself so he was photographed from the left side. This showed another aspect of Johnson, his insecurity and struggles.
During his term the Beatles arrived in New York for their first US tour. The 24th amendment was added to the Constitution together with the 25th but unfortunately, during his term many famous personalities were assassinated like Martin Luther King, Jr. Malcom X and Robert Kennedy. These events naturally shifted the attention of the American public from Johnson's war on poverty to conspiracy theories.
Johnson was known for his persuasion skills. Many would say this is how he became so successful in his political career. He was a very dedicated man with a lot of drive for work, women and material items. His appetite for success was inevitable and he could capture the audience easily through his sense of confidence. He once said, "Yesterday is not ours to recover, but tomorrow is ours to win or lose." He was so good with words that the Johnson Treatment is actually a study of Johnson's way of lobbying. He was a master at political process. A senator once said this about Lyndon Johnson, "When he'd talk to you would breath in your mouth."
In 1967 the war in Vietnam was escalating, by 1968 there were over half a million US soldiers fighting the Viet-Cong. This war was consuming not only American lives but also Johnson's own reputation. His administration failed to handle the war efficiently. This created a large atmosphere of resentment against Johnson's policy. Eventually people flocked in the streets in protest demanding an end to the senseless war. Johnson didn't not run for a re-election. He didn't live long enough to see the fruits of the Vietnam Peace talks. He died shortly after due to a heart attack in Texas on January 22, 1973. If it wasn't for Vietnam, he would have probably remained in history as perhaps the best Democratic President of all time. There is no President other than Franklin D. Roosevelt that achieved more in a domestic level then L.B.J.
Time in Office (1963-1969)
​B​orn: August 27, 1908
​Died: January 22, 1973
Wife: Claudia Taylor
Party: Democrat
​Vice President: ​Hubert Humphrey
​Religion: Disciples of Christ
​Reference Links
Lyndon Johnson presidential library
​Lyndon Johnson on Whitehouse.gov