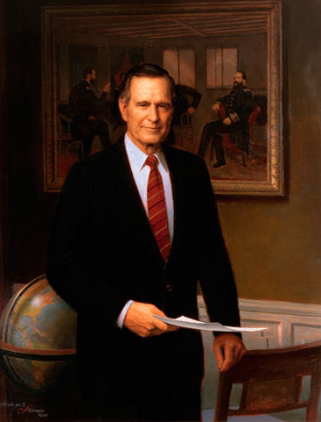 President George H. W. Bush Biography
George H. W. Bush was the 41st president and was elected in 1988 after serving eight years as vice president. Before Bush became a politician, he served in the Navy during WWII. During his time in office he led the U.S. in the Gulf War offensive against Iraq. His points of light campaign, that highlights community service, continue to promote volunteering to this day.
Bush began his service to his country by serving as a fighter pilot in the United States Navy during WWII. During the war his plane was shot down and he had to eject into the Pacific Ocean, where he would later be rescued by a submarine. He would spend the rest of the war training pilots and rescue teams.
After a successful business career in oil, Bush got into politics during the early 1960's. What started as a chairmanship for the county branch of the Republican Party quickly turned into a seat in Congress. Bush would serve two terms and then leave his seat to run for the Senate. After losing in the 1970 general election for Senate, Bush would take a position behind the scenes with the party.
​In 1976 Bush would return to Washington after being appointed the Director of Central Intelligence by president Gerald Ford. Bush would only serve in this role for less than a year, when he resigned after Jimmy Carter won the 1976 presidential election. The role would help him launch his own presidential aspirations in 1980.
After losing in the republican primaries in 1980, Bush accepted the vice president nomination from Ronald Reagan. When Reagan won in a landslide, Bush became part of the 'Reagan Revolution' in politics. He would keep a low profile for much of the Reagan presidency, staying consistent to what other vice presidents had done before him.
In 1988 Bush would now have his turn to run for president again and would use Reagan's popularity to beat Michael Dukakis in the presidential election. Bush would remain popular through the rest of the decade, but would start to face crisis's as the new decade started. By 1990 the economy was beginning to feel the effects of deficit spending. Bush would try to right the ship, but would end up raising taxes, which was something he promised he would not do during the 1988 campaign.
In 1991 Bush would regain his popularity as he led the United States to victory against Iraq in the Gulf War. With his poll numbers at an all time high, Bush seemed to be in good shape for the 1992 presidential election. Despite his solid leadership, the economy did not recover in time for the election and a young Governor from Arkansas named Bill Clinton would win the election. Ironically, Bush and Clinton would become close friends after Clinton's presidency and work together on causes around the world.
Time in Office (1989-1993)
B​orn: June 12, 1924
​Wife: Barbara Pierce
Party: Republican
​Vice President: ​Dan Quayle
​Religion: Episcopalian
​Reference Links
George H.W. Bush presidential library
George H.W. Bush on Whitehouse.gov