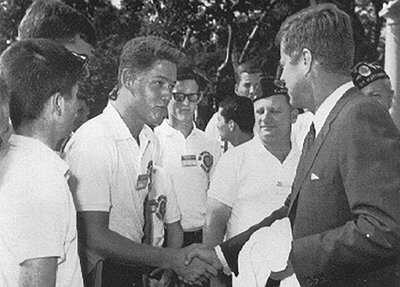 Bill Clinton, the 42nd President of the United States, had a fascinating life before he entered the political arena. From his tumultuous upbringing to his impressive education and early political career, Clinton's pre-presidential years were full of twists and turns that shaped him into the charismatic leader he eventually became.
Clinton was born William Jefferson Blythe III on August 19, 1946, in Hope, Arkansas. His father, William Jefferson Blythe Jr., died in a car accident before Clinton was even born. Over the years, Clinton would come to learn more about his father's life, including the fact that he was an alcoholic and a gambler. Clinton's mother, Virginia Cassidy Blythe, later married Roger Clinton Sr., who adopted Bill and gave him his last name.
Growing up, Clinton faced numerous challenges, including poverty, family strife, and personal tragedy. He excelled in school, but also faced health problems that required surgery and left him with a lasting fear of hospitals. Despite these obstacles, Clinton was a resilient and determined young man who knew he wanted to make a difference in the world.
After graduating from high school, Clinton attended Georgetown University in Washington, D.C., where he developed an interest in politics. He later transferred to the University of Oxford in England, where he earned a degree in philosophy, politics, and economics. This experience broadened his perspective and gave him a deep appreciation for other cultures and ways of life.
Upon returning to the United States, Clinton attended Yale Law School, where he met his future wife, Hillary Rodham. In addition to his studies, Clinton worked on various political campaigns, including George McGovern's unsuccessful bid for the presidency in 1972. Clinton's early involvement in politics laid the groundwork for what would become a long and successful career in public service.
Clinton's first job after law school was teaching at the University of Arkansas. He also ran for public office, seeking the position of Arkansas Attorney General in 1976. Although he lost that race, he went on to win the Governorship of Arkansas in 1978 at the age of just 32, becoming the youngest governor in the country at that time.
Clinton's first term as governor was marked by innovation and progress. He implemented policies aimed at improving education, healthcare, and the state's infrastructure. He also worked to build relationships with business leaders and improve the state's economy.
Despite facing controversy during his second term due to allegations of extramarital affairs and scandals involving state employees, Clinton was re-elected as governor in 1982 and 1986. By the end of his twelve years as governor, Clinton had become a well-respected and influential figure in Arkansas politics.
In 1992, Clinton announced his candidacy for the presidency, running on a platform of economic growth and social justice. Despite facing stiff competition from incumbent President George H.W. Bush and third-party candidate Ross Perot, Clinton ultimately won the election, becoming the first Democrat to hold the presidency since Jimmy Carter's administration ended in 1981.
Throughout his pre-presidential life, Bill Clinton demonstrated a commitment to service and leadership. Despite facing numerous personal and political challenges, he remained dedicated to improving the lives of those around him. His experiences as a student, lawyer, governor, and political candidate all contributed to his eventual success as President of the United States.
Bill Clinton's life before the presidency was marked by determination, resiliency, and a deep commitment to public service. From his upbringing in a troubled family, to his impressive education and early political career, Clinton's pre-presidential years were filled with twists and turns that helped shape him into the leader he eventually became.
Sources:
https://clintonwhitehouse4.archives.gov/WH/EOP/OP/html/Hope.html
https://en.wikipedia.org/wiki/Bill_Clinton