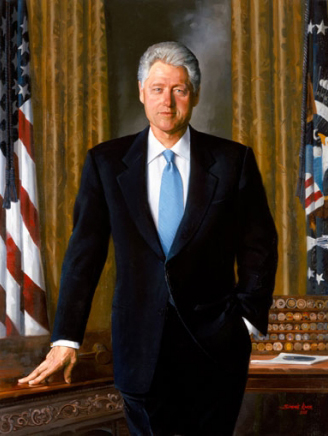 President Bill Clinton Biography
Bill Clinton was the 42nd president and the third youngest to be elected to the office. His time in office saw the birth of widespread Internet use and record setting gains in the stock market. As Commander in Chief, Clinton over saw the intervention in Bosnia and air strikes against Iraq. He spent most of his time in office working on peace deals in the Middle East.
​Clinton was born and raised in Arkansas under difficult circumstances, but that did not stop him from knowing at an early age that he wanted to dedicate his life to public service. As a student at Georgetown University, Clinton was elected class president in 1964 and 1965. After he graduated he won a Rhodes Scholarship and studied at Oxford. He would then go on to receive his law degree from Yale Law School in 1973.
​In 1974 Clinton's political career would begin with a loss to John Paul Hammerschimidt in race for his seat in congress. Two years later Clinton would successfully win the position of Attorney General in Arkansas. This win allowed him to become a part of the political scene in the state and the south as a whole.
​As Clinton's profile continued to rise, he ran and was elected Governor or Arkansas in 1978. At age 32 he was now the youngest Governor in the United States. After a rough first term Clinton lost his re-election attempt in 1980. Learning from his loss, he would rebound and win the 1982 election and remain in office until 1992.
​In 1992 Clinton was the Democratic Party nominee against sitting President George H.W. Bush. Running as a candidate of youth and a Washington outsider, Clinton's message reached the voters and he was elected President. By winning the presidency, his party now had control of both the executive and legislative branches of government.
​Clinton would waste no time in starting to implement his agenda. In 1993 he quickly passed the Family and Medical Leave Act of 1993 and cut taxes for middle and lower class Americans. In early 1994 he would also sign into law the North American Free Trade Agreement which promoted trade and economic growth in North America.
In 1996 Clinton was elected to a second term by defeating long time Senator Bob Dole. His campaign message of a bridge to the 21st century once again would resinate with young voters.
There would be highs and lows during Clinton's second term and they both would define his presidency. The U.S. Government was now running at a surplus for the first time in generations and the economy was booming. The unemployment rate had fallen and middle class Americans were seeing the benefits of Clinton's agenda. Many of these accomplishments would be tarnished by the scandal that resulted in the House of Representatives voting to impeach Clinton from the Presidency.
By the end of his presidency Clinton had regained some of his political power and was able to continue to lead. His successful authorization of troop deployment in Kosovo helped save millions of people from genocide. He would also continue to work with world leaders to create peace in the Middle East. For the last month of his presidency, Clinton's Wife Hillary Rodham-Clinton would serve in the U.S. senate, marking the first time in history that the wife of a U.S. President would hold that position.
Time in Office (1993-2001)
B​orn: August 19, 1946
Wife: Hillary Rodham
Party: Democrat
​Vice President: Al Gore
​Religion: Baptist
​Reference Links
Bill Clinton presidential library
​Bill Clinton on Whitehouse.gov