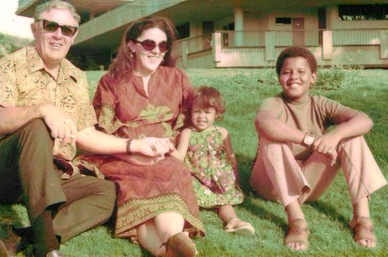 Barack Obama, the 44th President of the United States, is known for his charismatic personality and his ability to connect with people from all walks of life. However, before his presidency, Obama lived a life that was filled with challenges, struggle, and hard work.
Obama's early life was spent in Honolulu, Hawaii. His mother, Ann Dunham, was an American anthropologist who met his father, Barack Obama Sr., while studying at the University of Hawaii. However, his parents separated when he was only two years old, and he was raised by his mother and grandparents in Hawaii.
Obama attended the Punahou School, which is one of the most prestigious schools in Hawaii. He excelled academically and also played basketball and was a member of the school's varsity team. After graduating from high school, he moved to Los Angeles to attend Occidental College. However, he later transferred to Columbia University in New York to finish his undergraduate degree in Political Science with a specialization in International Relations.
It was during his time at Columbia University that Obama began to develop his interest in community organizing and activism. He became involved with various community groups and organizations, such as the Black Student Union and was an active participant in anti-apartheid protests against the South African government.
After graduating from Columbia University, Obama moved to Chicago where he worked as a community organizer. He worked with several community-based organizations, including Developing Communities Project and the Gamaliel Foundation, and helped to improve living conditions in poor neighborhoods.
In 1988, Obama entered Harvard Law School, where he became the first African-American president of the Harvard Law Review. His academic achievements and leadership skills earned him national recognition, and he was approached by many top law firms to work for them.
However, despite his success, Obama decided to return to Chicago after graduation and worked as a civil rights attorney. He also continued to be involved in community organizing, and his work in Chicago helped him to develop a strong connection with the city's African-American community.
In 1996, Obama was elected to the Illinois State Senate, where he remained until 2004. During his time as a state senator, he gained national recognition for his efforts to reform the criminal justice system, expand access to healthcare, and improve education.
Obama's political career continued to grow, and in 2004, he ran for the United States Senate. His campaign was built on the themes of hope, change, and unity and delivered a resounding victory, winning more than 70% of the vote.
As a Senator, Obama quickly became a rising star in the Democratic Party. He was an early opponent of the Iraq War and was known for his passionate speeches and tireless work on behalf of the American people. He was also a champion of healthcare reform and led the effort to pass the Affordable Care Act.
In 2008, Obama announced his candidacy for President of the United States. His campaign was centered around the idea of bringing change to Washington and creating a more inclusive and fair society for all Americans. His message resonated with voters across the country, and he won the election in a landslide.
In conclusion, before his presidency, Barack Obama lived a life that was filled with hard work, dedication, and a commitment to serving others. From his early days in Honolulu to his time at Harvard Law School, and his work as a community organizer and state senator, Obama demonstrated a deep understanding of the issues facing ordinary Americans. His passion for social justice, healthcare reform, and progressive politics helped him to become one of the most influential political figures of our time.
Resources used for this article:
https://www.britannica.com/biography/Barack-Obama
https://www.history.com/topics/us-presidents/barack-obama
https://www.obamalibrary.gov/obamas/president-barack-obama
https://obamawhitehouse.archives.gov/1600/presidents/barackobama