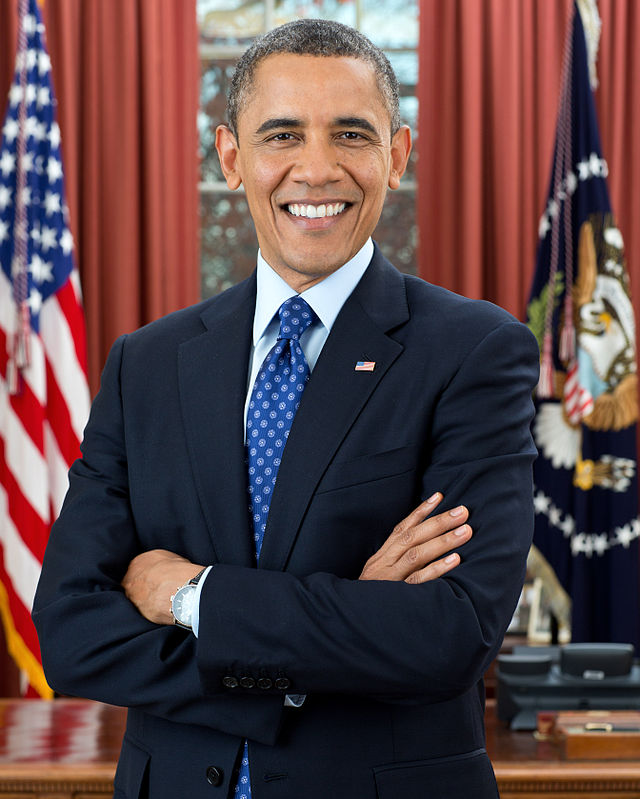 President Barack Obama Biography
​Barack Obama is the 44th president and began his term during the biggest financial crisis since the great depression. Known for his great speaking skills, he successfully was re-elected in 2012. During his time in office he has passed healthcare reform and a massive stimulus package. Before his presidency he served in the U.S. Senate.
After growing up in Hawaii, Obama moved to Los Angeles in 1979 to attend Occidental College. As a junior he would transfer and finish his degree at Columbia University in New York. He would then move to Chicago and work as a community organizer. In 1988 he would be accepted into Harvard's School of Law and eventually become it's first African American editor.
​Obama began his political career as a Illinois State Senator in 1997 after working in civil rights law in the Chicago area. In 2000 he would run for the U.S. House of Representatives and lose to four term incumbent Bobby Rush. Obama would continue to serve in the Illinois Senate until 2004 when he would run for the U.S. Senate.
In 2004 Obama became a part of the national political scene by giving the keynote address at the Democratic National Convention. This would help boost his own candidacy and he would end up winning his election with over 70 percent of the vote. During his time in the senate he would serve on key committees such as the foreign relations, public works and veterans affairs.
Riding his political momentum and notoriety, Obama would announce his candidacy for president on February 10, 2007. His call for political change and healthcare reform would resinate with middle class voters and he would earn his parties nomination over Hillary Rodham-Clinton. In the 2008 presidential election it would be much of the same sentiment that would propel him to victory over Senator John McCain.
Upon taking office Obama would face the toughest economic crisis since the Great Depression. His American Recovery and Reinvestment act of 2009 would help save the country from economic ruin and help start the slow process of recovery. In his first term he would also sign into law the Affordable Healthcare Act which would provide healthcare to millions of Americans.
During his first term Obama would also takeover leadership of two foreign wars. The wars in Iraq and Afghanistan were now almost a decade old and it would be his job to wind them down. On May 1, 2011 Obama ordered the raid that would kill Osama Bin Laden. This would be a pivotal move in the planning for the next steps to be taken in the wars.
​In 2012 Obama would face former Massachusetts governor Mitt Romney is his re-election bid. Campaigning on his accomplishments and plans for the future, Obama would win the election 51 to 47 percent. This would be the first time since Franklin Delano Roosevelt that a Democrat would win a majority of the popular vote twice. Obama continued to champion many of his first term policies as he entered the final years of his presidency. He left office in 2017 rated the 12th best president in history.
Time in Office (2009-2017)
B​orn: August 4, 1961
​Wife: Michelle Robinson
Party: Democrat
​Vice President: ​Joseph Biden
​Religion: Protestant Christianity
​Reference Links
Barack Obama on Whitehouse.gov
How Barack Obama Won The 2012 Election