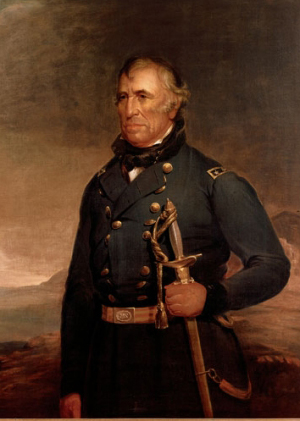 President Zachary Taylor Biography
Zachary Taylor was the twelfth president and was elected after a prominent career in the U.S. Army. He was able to ride the success he had in the Mexican-American War into a presidential election victory. His time in office was short due to his death 16 months into his term, so he was unable to get to most of his agenda.
Taylor began his service to the United States in 1808, when he joined the army as a first lieutenant. During this time he also invested time and money into a plantation in Louisville, KY. By 1812 he would begin to show his military leadership skills by guiding his troops to several victories. After the War of 1812, Taylor would take over command at Fort Howard in Green Bay, WI. He would spend the next several years fighting battle for control of the unsettled territories.
In 1846 Taylor would be in command for the greatest accomplishment of his life, the Mexican-American War. Most notably, Taylor led his forces to an unlikely win in the Battle of Monterrey. It was this battle that drove Mexican forces back and led to victory in the war. At this point Taylor had become a national hero and political parties were urging him to run for president.
In 1848 Taylor ran for president as a member of the Whig Party and defeated the Democratic challenger Lewis Cass. As he took office, tensions over the issue of slavery were already beginning to build and Taylor had to confront the threat of secession . Since Taylor was new to politics he had difficulty with negotiating and deal making, so he was unable to reach a compromise on many of the issues the country faced.
Unfortunately Taylor would only serve 16 months as he became sick on July 4, 1850 and later died on July 9, 1850. His death has always left questions about how he would have ultimately handled the issue of slavery and if the Civil War could have been avoided.
Time in Office (1849-1850)
​B​orn: November 24, 1784
​Died: July 9, 1850
Wife: Margaret Smith
Party: Whig
​Vice President: Millard Fillmore
​Religion: Episcopalian
Reference Links
Zachary Taylor on Whitehouse.gov
​The Top 5 Accomplishments of President Zachary Taylor
​