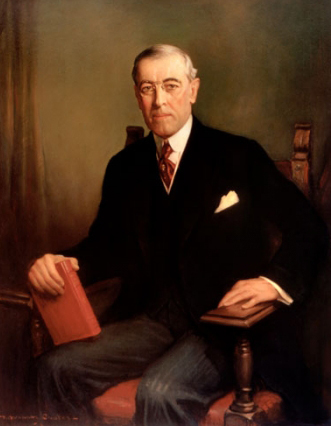 President Woodrow Wilson Biography
Woodrow Wilson was the 28th president and the leader of the progressive movement. During his time in office he established the federal reserve and the federal trade commission. In his second term he entered the country into WWI. He would spend most of his second term working on ending the war and on the creation of the League of Nations.
Wilson's background as an educator was much different than most presidents and gave him a unique perspective while in office. Wilson started his academic career at Cornell University and would go on to teach history and political science as he became a highly sought after lecturer. His career would ultimately lead him to the coveted position of President of Princeton University in 1902.
In 1910 Wilson would pursue political aspirations that had developed over the years and would run for and become Governor of New Jersey. As Wilson's profile became even greater he would help reshape the Democratic Party with his progressive ideas. He would become such a force in the party that it became clear early on that a presidential run was coming soon. Wilson would go on to be elected president in 1912, taking advantage of a split in the republican party.
As president, Wilson would take an academic approach to decision making by collecting facts and then taking time to decide on his own. He would also limit outside contact with his staff and himself so there would be no interference with his agenda. This would be a key as Wilson faced many challenges during his time in office and would have to make historic decisions.
Early in his presidency it was clear that America may be forced into the war in Europe. Despite Wilson's best efforts to find a peaceful solution, the United States would enter WWI in 1917. This would put Wilson in a difficult situation domestically because he had ran for re-election on an anti-war platform. As it became evident that his decision was the right one, the American people supported the war effort. The United States would go on to help the allied countries and defeat Germany in the war.
In October of 1919 Wilson would suffer a serious stroke that would leave him incapacitated for months. He would be physically limited for the rest of his presidency. Despite his difficulties, many of his policies were passed and taken forward by his wife and staff. Wilson would recover enough to attend cabinet meetings and a few public appearances. He would complete his term in 1921 and then retire with his wife to their residence in Washington, DC.
Time in Office (1913-1921)
B​orn: December 28, 1856
​Died: February 3, 1924
Wife: ​Ellen Axson, Edith Galt
Party: Democrat
​Vice President: ​Thomas Marshall
​Religion: Presbyterian
​Reference Links
Woodrow Wilson presidential library
​Woodrow Wilson on Whitehouse.gov
The Top 5 Accomplishments of President Woodrow Wilson