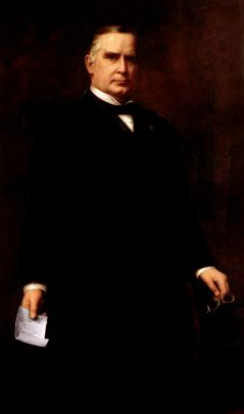 President William McKinley Biography
William McKinley was the 25th president and led the country into the 20th century. Before his time as president he served as Governor of Ohio. During his first term the economy went through tremendous growth and the country increased it's presence in the Pacific. His presidency was cut short when he was shot on September 6, 1901 and later died on September 14, 1901.
McKinley began his service to his country by enlisting in the Union Army at the start of the Civil War. He would hold the title of Commissary Sergeant and work directly for Major Rutherford B. Hayes. McKinley was a part of many major battles and helped chronicle the war for newspapers back in Ohio. His service continued till the end of the war when the Union Army defeated the Confederate states.
​After his army career ended McKinley went back to Ohio to start a family and pursue a legal career. During this time he also spoke out in support of the rising political career of his close friend Hayes. McKinley was able to use his law work in labor disputes to help gain political support for himself. This led to him becoming more outspoken about the policies of the day.
McKinley would begin his political career by serving one term in congress. He would then come back to Ohio and successfully become elected governor in 1891. His term as governor was then used to launch his presidential run in 1896 as he shot up the political ranks of the Republican Party. McKinley was able to ride the Republican dominance for the era and win the presidency over Democrat William Jennings Bryan.
​As president, McKinley was able to lead the country to a military victory over Spain in Cuba and worked to expand the United States territories. His expansion policies helped open up trade in the Pacific and with other countries like China. McKinley was a popular president and was re-elected in 1900 by beating Bryan once again. As the new century started McKinley had a full agenda that he wanted to cover.
​On September 6, 1901 McKinley was shot while on his way to meet with the public by an anarchist. He would go on to fight for his life until passing away on September 14, 1901. His death shocked the nation and there were outpourings of grief by his supporters and opposition. After a state funeral McKinley was laid to rest in Canton, OH.
Time in Office (1897-1901)
B​orn: January 29, 1843
​Died: September 14, 1901
Wife: Ida Saxton
Party: Republican
​Vice President: Garret Hobart, Theodore Roosevelt
​Religion: Methodist
Reference Links
William McKinley presidential library
​William McKinley on Whitehouse.gov