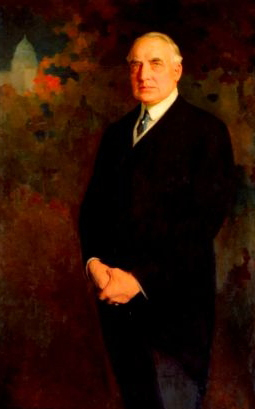 President Warren Harding Biography
Warren Harding was the 29th president and was the first sitting senator to be elected. During his time in office he started the Bureau of Veteran Affairs and supported several farm bills to help agriculture. He was known for the amount of traveling he did during office, which included a trip through western states and an extensive tour of Alaska.
Harding was another in a long line of Republicans that came from the state of Ohio and went on to national prominence. He would get his start as a Republican State Senator in Ohio, who voted strictly on party lines. This helped him develop connections with top party leaders in the state. It was also lead to his nomination and victory as United States Senator down the road.
In 1914 Harding was elected to the United States Senate, which was heavily controlled by Democrats at the time. His opposition to the majority helped his rise in the ranks of his own party. He would further raise his political profile by being the keynote speaker at the 1916 Republican National Convention.
In 1920 it would be Harding's turn to led the Republican Party and he was nominated to run for president against the Democrat James Cox. Harding would win the election in a landslide by running on a 'return to normal' platform that was opposed to the progressive movement.
Harding's presidency would be a busy one as he saw an economic decline as he was taking office. To improve the economy he would sign into law many bills involving agriculture and tax reforms. Harding would also go to great lengths to help veterans and create opportunities for them as the came back from WWI. Harding's last great achievement was his travel across the country and to Alaska. It was at the end of this trip in San Francisco that he would die after a series of health issues. There is still debate as to the cause of his death, but it was reported at the time as a heart attack or stroke.
Time in Office (1921-1923)
B​orn: November 2, 1865
​Died: August 2, 1923
Wife: ​Florence Kling
Party: Republican
​Vice President: ​Calvin Coolidge
​Religion: Baptist
​Reference Links
Warren Harding presidential site
​Warren Harding on Whitehouse.gov