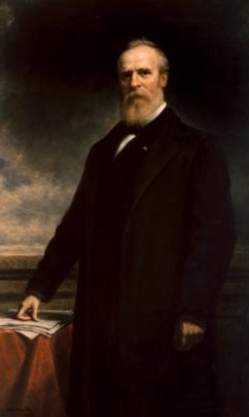 President Rutherford B. Hayes Biography
Rutherford Hayes was the 19th president and won one of the closest elections in United States history. Before he entered the White House, Hayes fought in the Civil War and served as Governor of Ohio. Hayes pledged to only serve one term and did not seek re-election in 1880.
Hayes started out his career as a lawyer and had a successful law practice for many years. Being involved in law went hand in hand with politics, where Hayes was a firm member of the Republican Party. It was his backing of Abraham Lincoln and his knowledge of law that led him to the appointed position of City Solicitor of Cincinnati in 1859.
​Hayes's career in law and public service was interrupted with the the start of the Civil War in 1861. As a Major in the 23rd Ohio Infantry Hayes showed his leadership skills. Ironically he would lead future president William McKinley. Hayes would serve for the entire length of the war and end up with the title Brigadier General.
​Even before the war ended Hayes would jump into politics and was elected to Congress in 1864. After serving two terms he would go back to Ohio and win the Governorship by a slim margin in the election of 1867. He would go on to serve two terms in this position as well, then opting to retire from politics in 1872. This retirement would be short lived, as Hayes would be elected Governor again in 1875.
​It was during his political comeback that Hayes was finally elevated to the top of the Republican party ranks. He would use his influence and backing from party members to gain the Republican nomination for the 1876 election. This election would go down in history as one of the most disputed due to the electoral college vote in the south. Hayes would end up winning the presidency after months of debate by the Republican and Democratic partys.
As president Hayes would oversee the end of reconstruction in the south and many civil service reforms. He would also have to deal with the great railroad strike of 1877, which saw many labor issue brought to a national level. His biggest foreign policy concerns would be conflicts in Latin America, where there many conflicts over land. Hayes would keep his campaign promise and not run for re-election in 1880, an election that another Ohio Republican, James Garfield, would win.
Time in Office (1877-1881)
B​orn: October 4, 1822
​Died: January 17, 1893
Wife: ​Lucy Webb
Party: Republican
​Vice President: William Wheeler
​Religion: Christian
​Reference Links
​Rutherford B. Hayes presidential center
Rutherford B. Hayes on Whitehouse.gov
​The Top 5 Things President Rutherford B. Hayes Accomplished