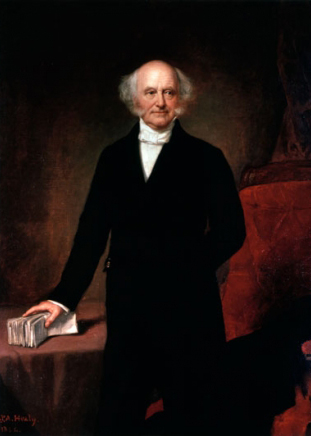 President Martin Van Buren Biography
Martin Van Buren was the eighth president and first who was born a United States citizen. He was a key part of the newly formed democrat party and believed in the two party system. His one term was limited by severe economic hardship on the nation.
What was Martin Van Buren Most Known For?
Martin Van Buren was a clever Politician, who very quickly gained popularity due to his crafty politics. He is rightly remembered as 'little magician'.
Growing Up:
After this he studied law by interning for law attorneys, and due to his intelligence, easily passed the bar. He knew how to communicate with people from all walks of life, a skill that he greatly used to his advantage when he entered politics.
Political Start:
Van Buren joined politics at quite a young age. He took part in the New York state politics and was soon elected to represent New York in the U.S senate.
Personal Life Before Becoming US President:
He was a proponent of Andrew Jackson and was selected as the Secretary of State, after Jackson became president. In 1831, he resigned from the post of Secretary of State, and was later elected to serve as the vice president to President Andrew Jackson for his second term.
Presidency:
With the support of ex-president Andrew Jackson, Martin Van Buren was selected to serve as the eighth president of U.S.
Soon after joining the presidential office, the U.S economy crashed. A wave of recession swept away the jobs of the American people, companies and banks went downhill. This was largely a result of the policies implemented by Martin Van Buren's predecessor President Andrew Jackson.
To ease tensions between the United States and Mexico, he stopped the annexation of Texas, which brought in a temporary contentment from the general public.
He settled a dispute on the Canadian border to help pacify the relations with the Great Britain.
In his tenure, Cherokee Indians who had not abided by the 'Treaty of new Echota', were forcefully sent to internment camps, from where they were shifted to the state of Oklahoma.
Time in Office (1837-1841)
​B​orn: December 5, 1782
​Died: July 24, 1862
Wife: ​Hannah Hoes
Party: Democrat
​Vice President: ​Richard Johnson
​Religion: Dutch Reformed
​Reference Links
Martin Van Buren historical site
​Martin Van Buren on Whitehouse.gov
​The Top 5 Accomplishments of President Martin Van Buren