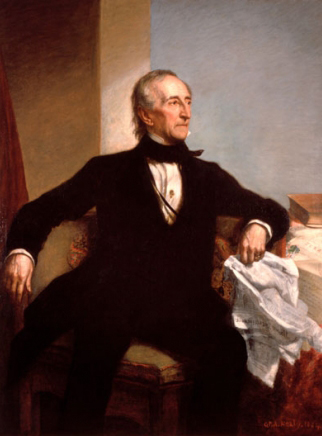 President John Tyler Biography
John Tyler was the tenth president and took office after the death of William Henry Harrison. Having become the first president to assume office after a death, Tyler took charge during a time of constitutional uncertainty. During his time in office he often clashed with the Whig party who had control of the House of Representatives.
John Tyler is mostly known due to the fact that he was never actually 'elected' to serve in the presidential office. He took charge for the responsibilities of President when his predecessor President William Henry Harrison died just 32 days into presidency. John Tyler became the 10th U.S President who went on to serve the whole 4 year term, without a vice-president by his side.
Growing Up:
As a young boy, John Tyler was a feeble looking, slender boy who grew up on greenway plantation in Virginia, an estate owned by his father. He studied and practiced Law after 1809.
Tyler's Political Start up:
He Joined politics by serving the Virginia House of Delegates. He was a member of the Democratic Party, but later joined the Whig party due to developing some differences over the policies of Andrew Jackson.
Personal Life Before Becoming US President:
Once a member of Whig party, he contended as candidate for the seat of vice president, which he won and William Henry Harrison became the president.
Presidency:
After he became president, John Tyler, on most occasions, went against the policies of the Whig party. Due to this he was dismissed from the part, but he resumed office.
Just before his retirement, he supervised the annexation of Texas from Mexico in 1845.
He solved the Canadian border dispute by signing the Webstor-Ashburton treaty, that solved the problem with the Canadian colonies populated near the US – Canada, Maines Border.
By assuming the presidential office after the death of William Henry Harrison, he initiated the presidential succession set up.
Death:
John Tyler's health constantly deteriorated during his years in office. In his last year he suffered from colds and finally died from, what many believe to be, a stroke.
President John Tyler Facts:
John Tyler remarried while he was in office. His first wife died from a stroke and two years later he married Julia Gardiner, who was almost half his age.
He fathered 15 children! John Tyler had seven children with his first wife Letitia, while he conceived eight children with his second wife Julia.
He was nicknamed 'His Accidency', by his rivals who alleged that he had become a president by accident and not by popular choice.
John Tyler was responsible for the annexation of Texas from Mexico. He passed the bill just a few days before his office tenure ended, making him the one that helped Texas join the Union.
He joined the confederate Congress in the Civil War. John Tyler sided with the confederates and so is still considered a traitor by many people.
Time in Office (1841-1845)
B​orn: March 29, 1790
​Died: January 18, 1862
Wife: ​Letitia Christian, Julia Gardiner
Party: Whig
​Vice President: None
​Religion: Episcopalian
​Reference Links