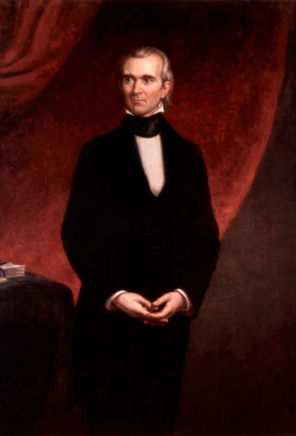 President James Polk Biography
James Polk was the eleventh president and was the first president photographed while in office. During his one term in office, Polk led the nation to victory in the Mexican-American War. His work to expand the nations borders was key to growth of the country. Polk promised to serve only one term and lived up to that promise by not seeking re-election.
Polk started his service to the United States as a member of the Tennessee state militia. In 1822 he began his service as a captain in the cavalry regiment of the 5th brigade. In 1825 Polk decided to enter politics by running for the United States House of Representatives. By 1835 he had achieved speaker of the House and was one of the leaders of the Democratic Party.
In 1839, at the urging of his party, Polk went back home to Tennessee to run for governor. After winning a narrow election, he would only serve two years. In 1841 he would lose his reelection bid and would once again focus on national politics. By 1844 he would become a leading candidate for the Presidency.
​Polk would gain his party's nomination for president by promising to serve only one term. This would help appease a party that was fractured into different factions at the time. The general election against Whig Party candidate Henry Clay would be close, but Polk won the electoral college 170-105.
Polk's presidency would be an ambitious one, where he would try to reduce tariffs and expand the nation. He would successfully negotiate the acquisition of the Oregon Territory and the admission of Texas to the union. Polk would also go to war with Mexico over what would become California, Nevada, Utah, Arizona and parts of New Mexico, Colorado and Wyoming. The war would end with the Treaty of Guadalupe Hidalgo, where the United States would gain legal control over the land.
Polk would end his presidency by living up to his promise to not run for a second term. His years of public service would end up taking a toll on him and he would die only 103 days after leaving office. After his death, Polk's popularity and importance have grown. His work to expand the nation from coast to coast is widely regarded as one of the best accomplishments of any president.
Time in Office (1845-1849)
B​orn: November 2, 1795
​Died: June 15, 1849
Wife: Sarah Childress
Party: Democrat
​Vice President: ​George Dallas
​Religion: Presbyterian
​Reference Links
The Top 5 Accomplishments of President James Polk