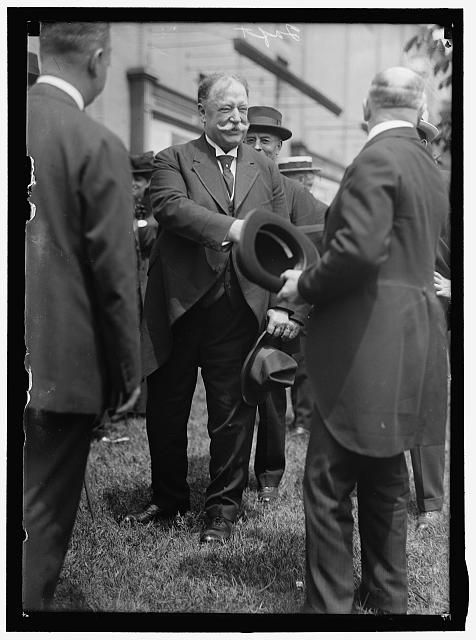 About William Howard Taft
Most people only remember William Howard Taft as the president who followed Theodore Roosevelt. Even during his time in office he was out shadowed by his predecessor, who would also ruin his re-election efforts in 1912. But Taft was much more than just a one term president, his work before and after his presidency would have been enough to make him a vital part of American history. As time has passed, history has been able to define his accomplishments and they are now quite clear.
Before Taft became a national figure, he built a successful career in law. His ambition led him to pursue a path that he thought would lead to the supreme court. While he would eventually be correct, he took a few side paths on his way to the coveted seat. Along the way he built a reputation has a successful and popular figure. Little did he know, he was building a presidential resume on the way.
Governor-General of the Philippines
​​In 1900 Taft was approached by President William McKinley to led the U.S. efforts in the creation of a civilian government in the Philippines. This was not his dream job, but Taft took it in hopes of parlaying it into a seat on the Supreme Court. Ironically, Taft would go on to turn down a seat in 1903 since he wanted to make sure the newly formed Filipino government was able to sustain what he had built. It was at this time that Taft's leadership skills were greatly appreciated by those in the Philippines and back in the U.S.
Secretary of War
At the request of president Theodore Roosevelt, Taft accepted the position of Secretary of War. This role allowed him to stay involved in the Philippines and also have a greater role in the U.S. government. During his service, Taft was involved in the second occupation of Cuba and the fight for the rights to the Panama Canal. This continued exposure to foreign affairs helped build Taft's reputation as a world leader.
Presidency
​​​​In 1908 Taft once again took the advice of Roosevelt and successfully ran for president. By riding on the popularity of Roosevelt and his own accomplishments, Taft was looked at as someone who would continue what the prior administration had started. That would not be the case though, as Taft was a different personality and looked at the presidency through a judicial lens. His relationship with congress was damaged from the start of his term and never functioned. As a consequence, the republican progressives turned on him to the point where Roosevelt ran on a third party ticket. This led to his loss in the election of 1912 to Democrat progressive Woodrow Wilson.
Chief Justice
​​​After a few years out of public life, Taft finally fulfilled his lifetime dream to become the Chief Justice of the Supreme Court. In 1921, after the death of justice Edward Douglass White, Taft was appointed by president Warren Harding. This was a triumphant culmination of a long and successful life in public service. The position also helped Taft rebuild his image and legacy after a tough presidency. He would go on to serve until 1930 when he had to step down for medical reasons, thus ending his historic life in public service.