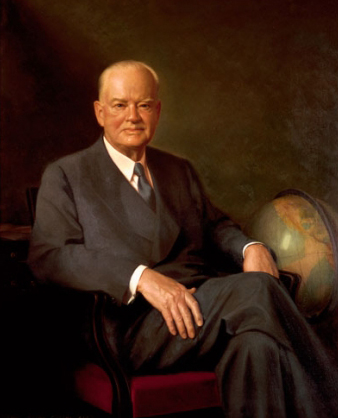 President Herbert Hoover Biography
Herbert Hoover was the 31st president and served as Secretary of Commerce before being elected in 1928. During his time in office he tried to stop the downward turn in the economy and was a strict enforcer of prohibition. He may be best known for the construction of Boulder Dam, which was later renamed Hoover Dam.
Hoover started his path to the White House as a student at Stanford University. He then worked in the mining industry as his first job post college. Hoover's political career began when he volunteered to help Americans who had to return home from Europe after the outbreak of WWI. His first actual job in politics soon followed as Woodrow Wilson appointed him to head the U.S. Food Administration.
​In 1928 Hoover had worked his way up the republican ranks and would be their nominee for president. He would use his years of experience to defeat democrat Alfred Smith in the general election with 58% of the vote. With the economy booming and the county continuing to grow, Hoover started off his presidency on a very high note.
​During his presidency, Hoover was known for being the most accessible president in history. Early in his presidency he would push for civil service reforms and less regulation. The 1929 stock market crash would force Hoover to change many of the things that he had planned for the country. He would spend the rest of his presidency trying to save the country from what turned into the great depression. Ultimately, economic conditions would lead to Hoover loosing his re-election bid to Franklin Delano Roosevelt.
Time in Office (1929-1933)
B​orn: August 10, 1874
​Died: October 20, 1964
Wife: Lou Henry
Party: Republican
​Vice President: ​Charles Curtis
​Religion: Quaker
Reference Links
Herbert Hoover presidential library
​Herbert Hoover on Whitehouse.gov
Herbert Hoover presidential timeline