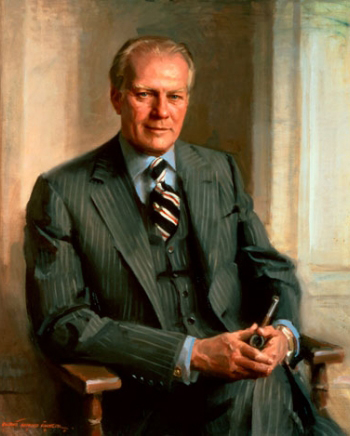 President Gerald Ford Biography
Gerald Ford was the 38th president and took office when Richard Nixon resigned. Ford helped steady the nation after the Watergate scandal shook confidence in government. During his time in office he worked on repairing foreign policy after the Vietnam war and domestic policies aimed at equal rights.
Before politics, Ford's first love was football. As a star center at Michigan University, he excelled to the point where he had professional offers after graduation. He decided to pursue a law degree at Yale, but also served as an assistant for their football team as a way to support his education.
Once Ford finished law school he began his legal career in his hometown of Grand Rapids, MI. He new career was then put on hold as he joined the Navy in 1942 and served in WWII. While in the service, Ford was known for his dependability and his leadership skills.
In 1948 Ford's political career began with a run for U.S. Congress. Despite being a new face in the Republican party, he easily won the primary and the general election. He would go on to hold his seat for the next 24 years. During his time in the house, Ford would become one of the most reliable members of the party.
In 1973, Richard Nixon's vice president Spiro Agnew resigned due to receiving improper bribes while in office. Knowing that Ford was a party favorite and would be confirmed by congress, Nixon asked for to serve as his vice president. His time as vice president would be short, as Nixon resigned from office on August 8, 1974.
Since Ford was never elected president, his power in office was limited and he was not able to get much done. By 1976 his re-election bid was even contested by future president Ronald Reagan. Ford would make it out of the Republican primary, but lose to Jimmy Carter in the general election.
After his time in office, Ford went on to enjoy retirement from public serve. Still known for his athletic past, Ford became an avid golfer. He would also make a good living as a speaker, writer and serve on corporate boards. In his later years he continued to be an elder voice for the republican party and for the U.S. around the world. After his death on December 26, 2006 he received a state funeral in Washington, DC.
Time in Office (1974-1977)
B​orn: July 14, 1913
​Died: December 26, 2006
Wife: ​Elizabeth Bloomer
Party: Republican
​Vice President: ​Nelson Rockefeller
​Religion: Episcopalian
​Reference Links
Gerald Ford presidential library