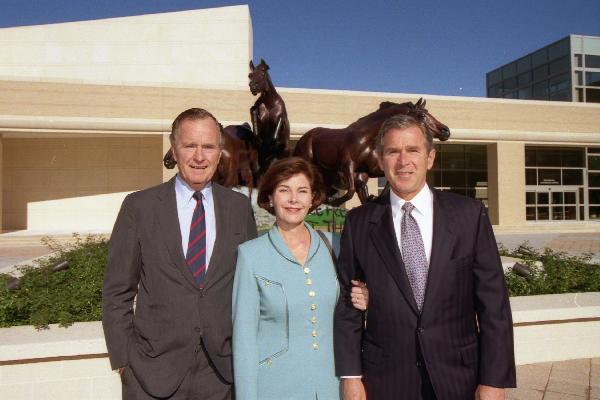 George W. Bush, the 43rd President of the United States, had a life filled with various experiences before he entered the political arena. From his upbringing to his education, Bush's pre-presidential life played a significant role in shaping him into the leader he became.
Born on July 6, 1946, in New Haven, Connecticut, Bush spent most of his childhood in Midland and Houston, Texas. He was the eldest son of Barbara and George H.W. Bush, who later became the 41st President of the United States. Bush's father was not only a respected politician but also a successful businessman in the oil industry. This background instilled in Bush the drive to work hard and succeed in whatever he pursued, whether it be business or politics.
Growing up, Bush attended the Kinkaid School in Houston, where he excelled in sports, particularly baseball. His love for the sport would follow him through his life, as he continued to play throughout his presidency. Despite being born into privilege, Bush learned the value of hard work and dedication at an early age, thanks in part to his father's expectation that he earn his own money.
After completing high school, Bush briefly attended Yale University, where he continued to play baseball. However, he soon transferred to the University of Texas, where he earned a degree in history in 1968. During his college years, Bush became interested in military service and joined the Texas Air National Guard. He eventually completed flight training and served as a fighter pilot until 1973.
Following his discharge from the military, Bush set his sights on entering the oil business, which his family had long been involved in. He moved to Midland, Texas, where he started his own oil company, Arbusto Energy, in 1977. Despite initial setbacks, Bush persevered and eventually merged his company with Spectrum 7, another energy company. The merger proved successful, and Bush was named CEO of the combined company.
As Bush's business career flourished, he became increasingly involved in politics. He volunteered on his father's campaign for the U.S. Senate in 1970 and later worked on his unsuccessful bid for President in 1980. Bush's experience on the campaign trail gave him valuable insight into the world of politics and a desire to serve his country in a greater capacity.
In 1994, Bush made his first run for public office, seeking the Governorship of Texas. Despite being a relative newcomer to politics, Bush ran an energetic and effective campaign that focused on issues such as education reform and crime reduction. He won the election by a wide margin, becoming the first Republican Governor of Texas in over a century.
During his time as Governor, Bush implemented policies that reflected his conservative values, such as limited government and free-market principles. He also focused on improving education, particularly for low-income students, and reducing crime rates through innovative programs like community policing.
Bush's successful tenure as Governor of Texas catapulted him onto the national stage and paved the way for his eventual run for President. In 1999, he announced his candidacy for the Republican nomination and quickly emerged as the frontrunner.
Despite facing tough competition from other candidates like Arizona Senator John McCain, Bush ultimately secured the nomination and went on to defeat Democratic nominee Al Gore in the general election.
Throughout his pre-presidential life, George W. Bush demonstrated a commitment to hard work, service, and leadership. From his days as a student-athlete to his successful business career and his time as Governor of Texas, Bush's experiences shaped him into a leader who was ready to take on the challenges of the presidency.
George W. Bush's pre-presidential life was filled with various experiences that contributed to his success as a leader. From his upbringing in a family of politicians and successful businessmen, to his education and military service, to his business career and involvement in politics, Bush's life was marked by a drive to succeed and a commitment.
Sources used for this article:
https://georgewbush-whitehouse.archives.gov/president/biography.html
https://www.britannica.com/biography/George-W-Bush
https://www.georgewbushlibrary.gov/bush-family/george-w-bush