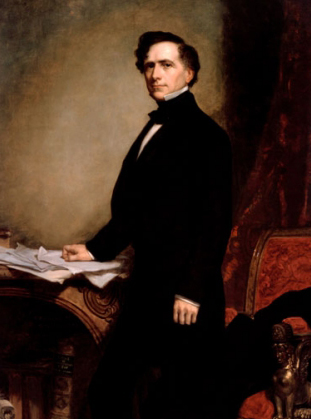 President Franklin Pierce Biography
Franklin Pierce was the 14th president and was known for his service in the Mexican-American War. During his time in office the issue of slavery continued to escalate. He only was able to serve one term due to his party selecting James Buchanan to run in the election of 1856.
Early Life
Franklin Pierce was born in a log cabin on November 23, 1804 in Hillsborough, New Hampshire. He was the fifth of eight children born to Benjamin and Anna Kendrick Pierce. His father was a Revolutionary War veteran and governor of New Hampshire from 1827-1828. Franklin attended public schools in Hillsborough and Francestown. In 1820, he entered into an apprenticeship with his uncle, Jesse Appleton, who was the president of Bowdoin College. After two years, he returned home and began studying law with Judge Levi Woodbury. He was admitted to the bar in 1827 and started his own practice in Concord, New Hampshire.

Pierce married Jane Means Appleton, the daughter of his former employer and president of Bowdoin College, in January of 1834. The couple had three sons: Franklin Jr., who died shortly after birth; Benjamin who died at the age of four from an accidental fall; and Frank Robert who died at eleven from typhus. Janeappleton died in 1863 after a prolonged illness.

In 1833, Pierce became a Freemason and rose to the rank of Grand Master of Masons in New Hampshire by 1852. He also became active in politics as a member of the Democratic Party. He served as a state legislator from 1829-1831, U.S Representative from 1833-1837, and U.S Senator from 1837-1842 and again from 1845-
Political Career
Franklin Pierce was a Democratic politician who served as the 14th president of the United States from 1853 to 1857. He was born in New Hampshire and served in the U.S. House of Representatives and the U.S. Senate before becoming president. Pierce's presidency was marked by numerous challenges, including the Kansas-Nebraska Act, which led to increased tensions over slavery and eventually led to the Civil War. Pierce was not renominated for a second term, and he retired from politics after leaving office.
Presidency
Franklin Pierce was the 14th president of the United States, serving from 1853 to 1857. A native of New Hampshire, Pierce served in the U.S. House of Representatives and the Senate before becoming president. As president, Pierce oversaw the annexation of Kansas and Nebraska and the Gadsden Purchase. He also signed into law the Fugitive Slave Act, which required federal officials to help capture escaped slaves, a controversial measure that further divided the country on the issue of slavery. After leaving office, Pierce retired to New Hampshire.
Later Life
President Franklin Pierce's later life was fraught with tragedy. His eldest son, Benjamin, died in a train accident in January 1853. Pierce's wife Jane died of tuberculosis in Andover, Massachusetts, on December 2, 1863. Her death left him inconsolable. Less than two years later, on October 8, 1865, while returning from a trip to Europe, President Pierce's only surviving child, Frank Jr., died of rheumatic fever aboard the steamship Quaker City. The former president was devastated by the loss of his family and became an alcoholic. He retreated from public life and died on October 8, 1869, at the age of 64.
Legacy
Franklin Pierce was the 14th President of the United States, serving from 1853-1857. He was a member of the Democratic Party and is best known for his involvement in the Kansas-Nebraska Act of 1854, which allowed for popular sovereignty in those territories and led to increased tensions between pro-slavery and anti-slavery factions. Pierce also worked to annex parts of Mexico during his presidency, although this was ultimately unsuccessful.

After leaving office, Pierce's popularity declined sharply and he became increasingly critical of Abraham Lincoln's policies during the Civil War. He died in 1869, just four years after the end of the war.

Despite his mixed legacy, Franklin Pierce is remembered as one of the more significant presidents in American history.
Time in Office (1853-1857)
B​orn: November 23, 1804
​Died: October 8, 1869
Wife: Jane Appleton
Party: Democrat
​Vice President: ​William King
​Religion: Episcopalian
Reference Links
​Franklin Pierce on Whitehouse.gov
​The Top 5 Accomplishments of President Franklin Pierce