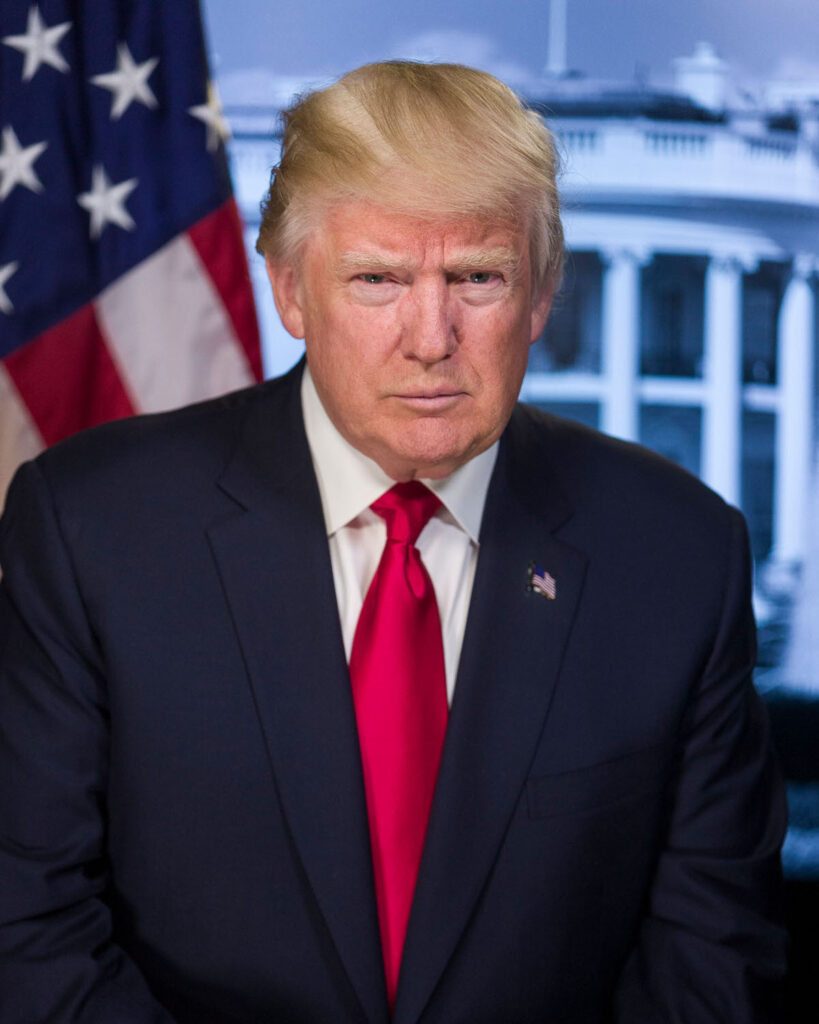 President Donald Trump Biography
Donald Trump was sworn in as President of the United States on January 20, 2017 after defeating Hillary Clinton in the 2016 election. Before running for president, Trump had a successful business career in real estate and investing. He was also known for his hit TV show The Apprentice which aired from 2004-2015.​​​​
Trump was born in New York City and has remained there his entire life. After graduating from the University of Pennsylvania in 1968, he went to work for the family real estate firm. Learning from his father who had run the business, Trump would lead the company to many real estate deals during the 1970's. Most notably, he would develop and construct Trump Tower in Manhattan. Trump tower would serve as the Trump Organization Headquarters and Trump himself would reside there.
Through the 1980's and 1990's, Trump would continue to develop real estate and branch off into resorts and casinos. Some of the ventures that he was involved in would end as failures, Despite any setbacks, Trump continued to move forward with new business plans. In 2001, the Trump World Tower opened just across from the United Nations Headquarters.
After years of experience in the business world, Trump would turn into a reality TV personality. In 2004 Trump would become the star and executive producer of The Apprentice on NBC. The show featured contestants competing for a position in one of Trump's companies. The hit show would run for 14 years with Trump as the star and continue with Arnold Schwarzenegger after Trump won the presidency.
With no elected political experience, Trump announced that he was running for President of the United States on June 16, 2015. While many thought that this was a publicity stunt for Trump's brand or show, it would turn out to be his first step towards the White House. Even though he had never campaigned before, he would win the Republican primary and became the party nominee.
In the general election he would face Democrat Hillary Clinton in one of the fiercest and ugliest campaigns in history, Using social media, Trump would attack those who attacked him and scorn the media when he felt they had mistreated him. His unconventional campaign style avoided the media filter, and both angered and energized people on both sides of the political spectrum.
On November 8, 2016 Trump would win the general election, despite losing the popular vote by almost 3 million votes. By winning the electoral college 304-227 over Clinton, he became the fifth person in history to win the presidency, but not the popular vote. His slogan of "America First" and "Make America Great Again" gained support in key states from working class Americans. This support allowed him to pick up the states of Wisconsin, Pennsylvania, and Michigan which had been Democrat controlled for decades.
Time in Office (2017-2021)
B​orn: June 14, 1946
​Wife: Melania Knauss
Party: Republican
​Vice President: ​Mike Pence
​Religion: Presbyterian
​Reference Links
President Trump: Whitehouse.gov