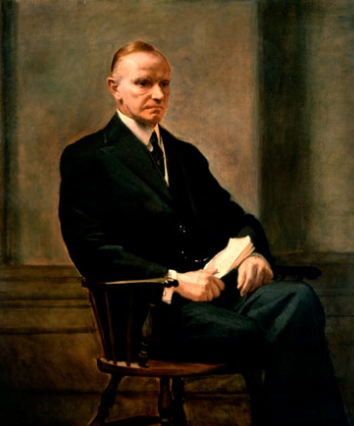 President Calvin Coolidge Biography
Calvin Coolidge was the 30th president and took office after the death of Warren Harding. He began his career of public service as a lawyer in Massachusetts and that led to him serving in the state legislature in 1907. By 1913 he had risen in popularity based on his support for the Western Trolley Act, which connected Northampton with a dozen similar industrial communities in western Massachusetts. By 1916 Coolidge had become a household name and he ran successfully for lieutenant governor of Massachusetts. This ultimately led to his election as governor of Massachusetts in 1918. A position that he would serve in until 1921.
In 1920 Coolidge moved up to the national level of politics and was nominated as the vice presidential candidate for Warren Harding. After his ticket won the election, he became vice president of the united states on March 4, 1921. During his time as vice president, Coolidge was nicknamed "silent cal" due to the fact that he lacked many official duties.
On August 2, 1923, President Harding died from a heart attack while in San Francisco. This immediately made Coolidge the 30th President of the United States. After taking the oath of office from this father in the early morning of August 3, 1923, he returned to Washington the next day. By have such a low profile as vice president, Coolidge had a relatively quite start to his time in office.
As Coolidge finished out Harding's term, he continued to push much of the unfinished business that the 29th president left behind. Through out much of 1924 he ran a subdued presidential campaign. Many of his campaign speeches were broadcast on the newly available radio. At the June Republican convention, which was held in Cleveland, OH, Charles G. Dawes was nominated as the vice presidential candidate.
On Tuesday, November 4, 1924 Coolidge won re-election with a 382 to 136 margin in the electoral college against Democratic candidate John W. Davis. This resounding victory gave Coolidge political capital to start his first full term. This also truly ushered in the "roaring twenties", which was a time of great growth in the United States.
During his first full term in office, Coolidge concentrated on growing industry and trade, civil rights and foreign policy. As the economy grew at a fast pace, Coolidge opposed regulation and promoted fiscal responsibility. While he did not enact any major pieces of civil rights legislation, he was known to has disdain for racist and proposed laws that punished lynching. Much of his work on foreign policy was focused on Mexico and Latin America.
In 1927, to the surprise of his many supporters, Coolidge announced that he would not run for re-election in 1928. While this announcement stunned the nation, those who knew Coolidge understood that he felt that 10 years in Washington as president would be to much for him.
Coolidge led a relatively quite post-presidency, focusing on writing and publishing his autobiography in 1929. Unfortunately he did not get the chance to enjoy a long period of retirement. On January 5, 1933, Coolidge died of a coronary thrombosis at the age of 60. He is buried in Plymouth Notch Cemetery, Plymouth Notch, Vermont.
Time in Office (1923-1929)
B​orn: July 4, 1872
​Died: January 5, 1933
Wife: ​Grace Goodhue
Party: Republican
​Vice President: Charles Dawes
​Religion: Congregationalism
Reference Links
Calvin Coolidge presidential library
Calvin Coolidge on Whitehouse.gov
The top 5 accomplishments of Calvin Coolidge