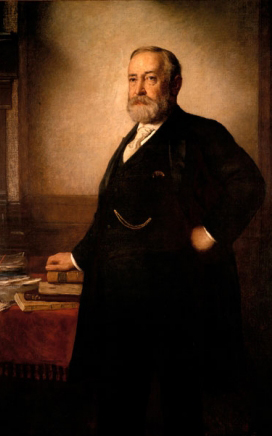 President Benjamin Harrison Biography
Benjamin Harrison was the 23rd president and the last president who had served in the Civil War. During his time in office he focused on civil service reforms and tariff levels. His Land Revision Act of 1891 led to the ability for the government to set aside land from development. While in office Harrison had electricity installed in the White House. He was also the grandson of president William Henry Harrison.
​Harrison began his path to the White House by earning a law degree from Miami University of Ohio. While at the university he joined the Delta Chi fraternity, one that had many political connections that he would use later in life. While he was finishing his degree he also married his wife, the former Caroline Scott.
Just as Harrison's promising law career started the Civil War began to break out. Not having military service, Harrison began his service by recruiting soldiers. After a regiment was formed, he was then appointed colonel of the 70th Indiana. His regiment would mainly be used to guard railroads in Kentucky and Tennessee. As the the war progressed though, he would lead them into battles such as Resaca, Cassville, New Hope Church, Lost Mountain, Kennesaw Mountain, Marietta, Peachtree Creek and Atlanta.
After the war Harrison would use political appointments and his law experience to get into republican party circles. President Ulysses S. Grant would appoint him to represent the government in a high profile civil case that would help launch his new career. Soon after he was supporting candidates back in Indiana and was considered a possible candidate himself.
​In 1880 Harrison would battle through inter-party strife and be appointed U.S. Senator. His termed got off to a good start, but the republican party as a whole would fall into crisis after the assassination of president James Garfield. During his time in the senate he would he would work to delegate funds from the budget surplus at the time and reduce the tariff on imports and exports.
After his re-election in 1884, Harrison was now one of the most influential men in his party. He would leverage this power into his parties nomination in 1888 against president Grover Cleveland. By running a more modern campaign, Harrison was able to gain victories in the key states of New York and Pennsylvania. Even though he lost the popular vote, Harrison would win the electoral college and the presidency.
As president, Harrison would focus on civil service reforms and tariffs. The spoils system is one that he would reform right away but shifting to a merit system for political appointments. His reforms on tariffs would help invigorate trade with other nations. Through out his term he also focused on reclaiming surplus government land and foreign policy.
By 1892, Harrison saw an economy that had not responded to his policies and faced a tough re-election battle with former president Grover Cleveland. To make matters worse for Harrison, his wife Caroline contracted tuberculosis and died two weeks before the election. Ultimately Cleveland would win the election in an electoral college rout.
Time in Office (1889-1893)
​B​orn: August 20, 1833
​Died: March 13, 1901
Wife: ​Caroline Scott
Party: Republican
​Vice President: Levi Morton
​Religion: Presbyterian
​Reference Links
Benjamin Harrison presidential site
​Benjamin Harrison on Whitehouse.gov
​Facts about Benjamin Harrison