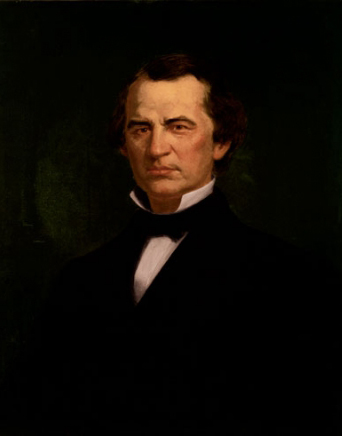 President Andrew Johnson Biography
Andrew Johnson was the 17th president and assumed office after the assassination of Abraham Lincoln. Before becoming Lincoln's vice president he served as a senator from Tennessee. During his time in office, Johnson oversaw the beginning of reconstruction efforts in the south after the end of the Civil War.
He is known for succeeding Abraham Lincoln after he was assassinated on 14th April, 1865.
Andrew Johnson was also one of the two U.S presidents, who faced impeachment charges (which he escaped), on breaching the Tenure of Office Act, by firing the Secretary of War from the cabinet.
About his father:
Andrew Johnson's father was aa town constable. Andrew was just a toddler (almost 3 years of age) when his father passed away after suffering from a heart attack.
Growing Up:
His family endured financial hardships in his early life. His mother was just a laundress who found it difficult to earn bread for the family and Andrew could not gain any education. He soon became an apprentice for a tailor and learned a great deal from him.
The family soon relocated to Tennessee, where he established his own tailoring business. There he met his wife, who taught him basic reading and writing skills and mathematics as well.
Johnson's Political Startup:
Andrew Johnson set foot in politics by running for the municipal elections in 1829.
In 1835, he was elected for the Tennessee House of Representatives. By the end of 1839, he had become a member of the Democratic Party.
Johnson ran for Vice President in the elections of 1864. He successfully secured the vote to become Vice president alongside President Abraham Lincoln.
On the day President Lincoln was assassinated, Andrew Johnson himself narrowly escaped death.
Presidential Election and Presidency:
After Lincoln's death, Andrew Jackson took charge of the oval office as President.
In a Post-Civil War era, Andrew Johnson had to unite and undo the damage done by the war years. In the Era of Reconstruction, he displayed a lenient attitude towards the Confederate states, he vetoed so many bills of the congress in favor of the Southern states, that the Congress soon wanted to dispose him from the Presidential office.
Impeachment:
Andrew Johnson was accused of exploiting his influence when he discharged the Secretary of War in 1868. Congress decided to impeach him in a trial, however the Senate allowed him to stay in office.
Death:
President Andrew Johnson died of a stroke on 31st July, 1875 in Tennessee.
Andrew Johnson Facts:
Being a tailor himself, Andrew Jackson sewed his own clothes, even when he was the President of the United States.
Andrew Johnson had a powerful memory and so he memorized the U.S constitution by heart.
His wife had become invalid to serve as the hostess to the White House, So Jackson's daughter took up the responsibility to become the hostess of the White House.
He never really went to School. He learnt to read, write and do basic calculations from his wife, Eliza McArdle Johnson.
He was saved from impeachment, just because of one vote that supported him.
Time in Office (1865-1869)
B​orn: December 29, 1808
​Died: July 31, 1875
Wife: Eliza McCardle
Party: Democratic
​Vice President: None
​Religion: None
Reference Links
Andrew Johnson museum and library
Andrew Johnson on Whitehouse.gov
​The Top 5 Accomplishments of President Andrew Johnson