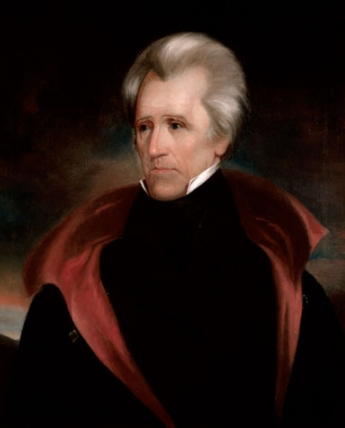 President Andrew Jackson Biography
Andrew Jackson was the nations seventh president and another leader who had served in the Revolutionary war. Jackson came from a humble background and was able to overcome being orphaned at the age of 14. After starting out as a lawyer, Jackson worked his way up through congress to start his political career. During his presidency he helped reform the governments spoils system.
​Andrew Jackson was a celebrated war hero. He emerged victorious in the war of 1812, by defeating the British, and this earned him great respect in United States.
About his father:
His father, as well as mother, both had immigrated to the United States and were of Irish Descent. Their family was quite poor and his father died in an accident even before Andrew was born.
Growing Up:
Even though he could not afford formal education, Andrew Jackson was intelligent and learnt to read early in life. When he was a teenager, he took part in the Revolutionary War and became a messenger to deliver messages. He along with his brother, was soon taken prisoner by the British officers, but was released soon.
Andrew Jackson's Political Startup:
He took interest in the study of law and became a lawyer. He started practicing law in Tennessee, where he also bought the Hermitage Plantation, on which cotton was grown on a large scale. He became a member of the Tennessee House of Representatives and later served as a senator from Tennessee.
The War of 1812:
Andrew Jackson was appointed as a general to lead the militia of Tennessee. He led his unit to with great command and fought on the front line. He proved his mettle when his army came to face the British army at New Orleans. Even though his army was outnumbered in front of the British soldiers, his men fought with great valor and courage and British army was crushed. Andrew Jackson became a national war hero after winning the battle at New Orleans.
Personal Life before Becoming the President:
He ran as a candidate for presidential elections in 1824, but lost to John Quincy Adams. Though both of them had received equal number of votes, the Congress decided to let Quincy Adams become the U.S president.
Presidential Election and Presidency:
Jackson ran for the presidential elections, in 1828 and won with a clear majority this time. He invited the public to his inauguration ball, due to which his reputation among the general public, became even more favorable.
He utilized his official powers to full extent and vetoed many bills that did not meet with the public interests. Andrew Jackson disapproved of the national bank of United states, as hhe believed that it further divided the society into the elite and the poor class.
Andrew Jackson was also responsible for evacuating and moving the Indians further West, this was done by signing the Indian Removal Act of 1830. The state of Georgia, illegally occupied thousands of acres of land that belonged to Cherokee Indians. The court ruled against this act by the state of Georgia, but Jackson dismissed the court's ruling. He then relocated the Cherokees to Western territory of Arkansas.
Death:
He died on 8th June, 1845 after suffering from chronic Tuberculosis and heart failure.
Andrew Jackson Facts:
Andrew Jackson was an aggressive man who took part in many duels. In one such duel, he was shot in the chest, but he stood his ground and shot and killed his opponent.
He and his brother Robert, were taken prisoners of war after the Revolutionary War.
He loved to gamble and lost his father's money in this particular way.
An assassination attempt was made on Andrew Jackson. His assassin tried to shoot him with two pistols, but both of them misfired, saving Andrew Jackson's life.
Time in Office (1829-1837)
B​orn: March 15, 1767
​Died: June 8, 1845
Wife: Rachel Robards
Party: Democrat
​Vice President: ​John Calhoun, Martin Van Buren
​Religion: Presbyterian
​Reference Links
The Hermitage – Home of Andrew Jackson
​Andrew Jackson on Whitehouse.gov